Welcome to my Camera Section. If there are any pictures of you or yours that you do not wish to have on this page, please email me.
---
Honeymoon, Nova Scotia, Day 4
---
---
On Day 4 we headed out in a more relaxed fashion to explore Cape Breton National Park. Our first stop was this neat rocky beach.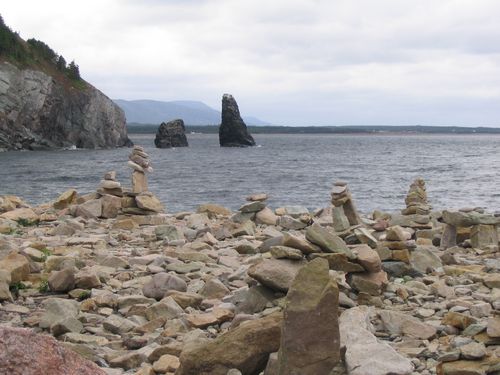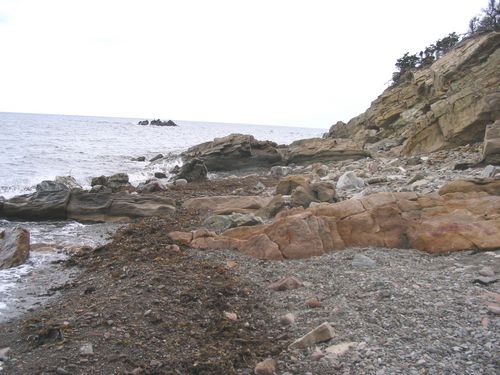 ---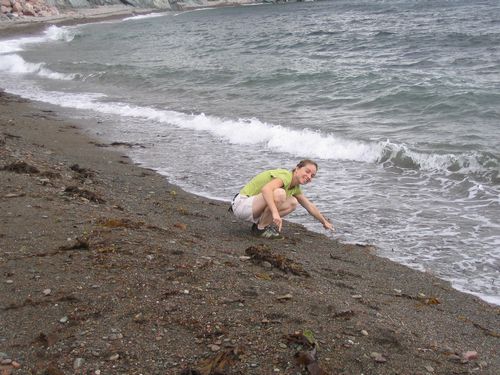 We each took a turn actually touching the ocean that until now had been just out of reach.
---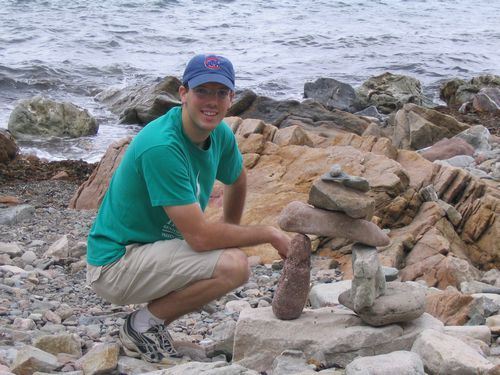 There were a lot of ad-hoc rock scultures along the beach, so we decided to make one ourselves. If you're ever in the area, let me know if you see this one still standing.
---
Then we started our ascent into the highlands.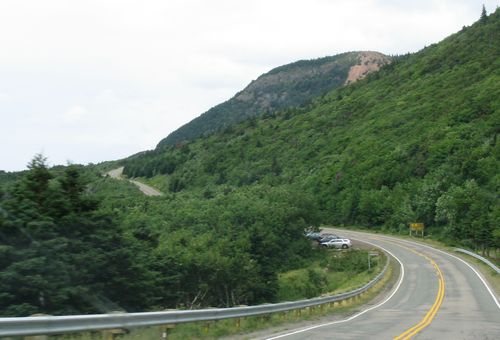 ---
Here is a sampling of the foliage from the first trail we hiked that day.
---
It was kind of neat to walk on the boardwalk for the hike. It allowed us to enjoy the scenary without worrying about tripping.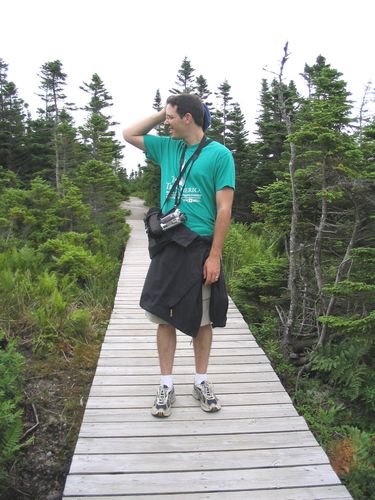 Here I am looking confused, as if I don't know where I'm going.
---
From this trail we had a great look back at the Cabot Trail. Click on this picture for a larger version.
---
At one point in the trail we could go out on a long grassy ridge. It was insanely windy on top.
---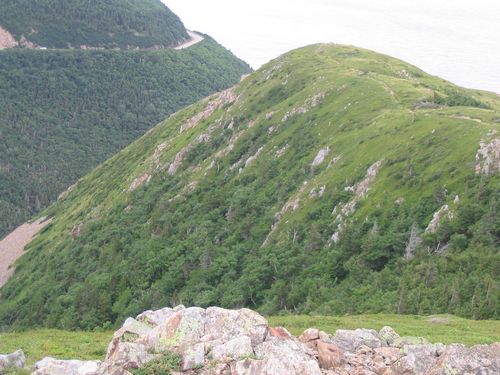 Here is the view at the end of how far we were allowed to go. You can see a trail though that I'm guesing people used to go out further on.
---
High in the mighty wind, all that can grow is low-lying grass, a few special flowers, and wild-berries!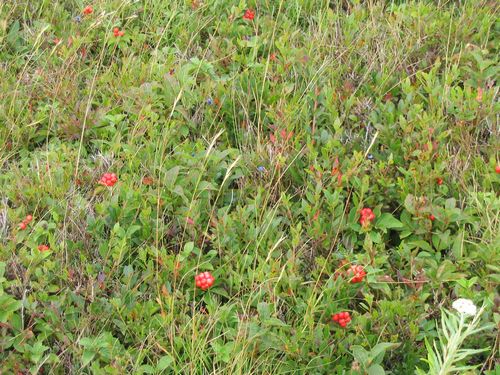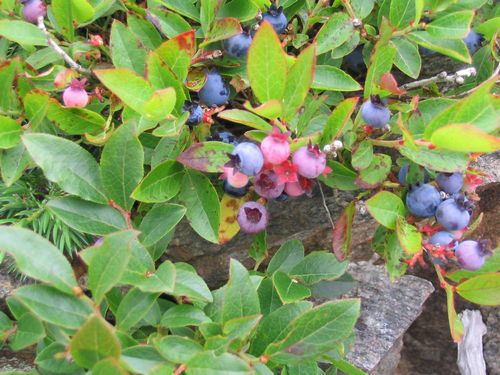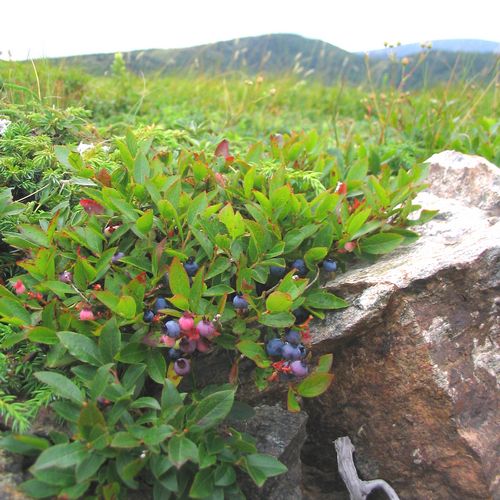 ---
After retreating out of the wind and along the path, we noticed a weird moss or lichen growing on a lot of the trees.
---
More in and away from the windy ridge, trees and high grass can grow. But it stills seems somewhat wind-swept at times.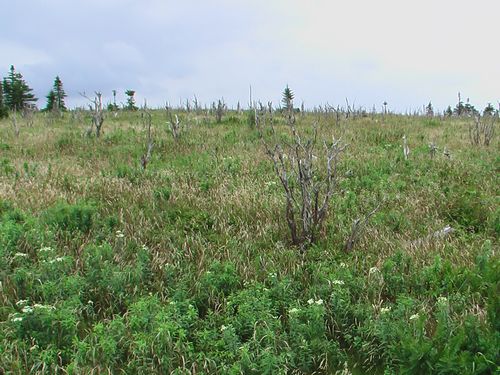 ---
Along the trail we encountered a group of people talking quietly and point toward the brush. Sure enough, there was a moose taking a nap. We waited for a long time in hopes that it would stand up, but it never did. Still, we got to see a moose!
---
When we got back to the car and started to drive back, I took this quick picture of the windy ridge the trail ran on top of.
---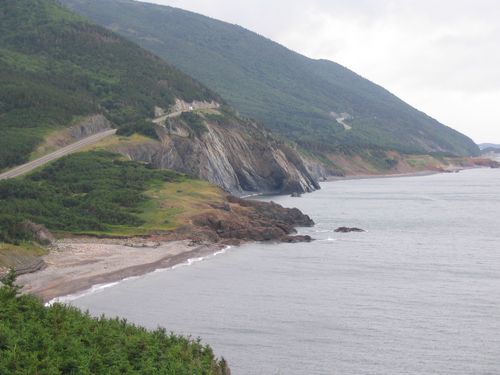 Again, we drove along the Cabot Trail to our next trail. It was a little rainy, but we decided we should make the best of it anyway.
---
The next trail led through a beautiful Birch wood forest...
---
... over a couple of bridges...
---
... to a neat waterfall.
---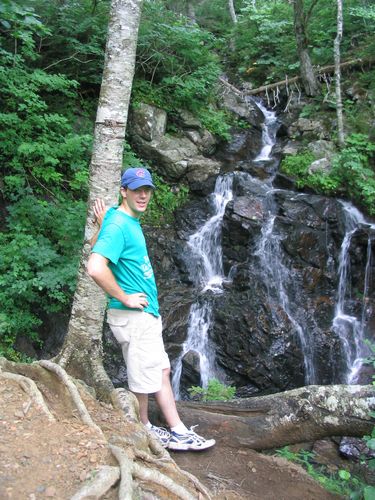 Kate and I take turns looking cool in front of the falls.
---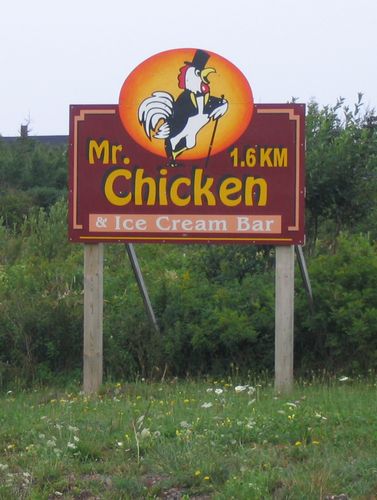 Lastly, on our way back to our cabin, I took this quick picture to go along with my "Chickens that Wear Hats" collection. Also in the collection so far is Pollo Campero and Chester Fried Chicken.
---