Welcome to my Camera Section. If there are any pictures of you or yours that you do not wish to have on this page, please email me.
---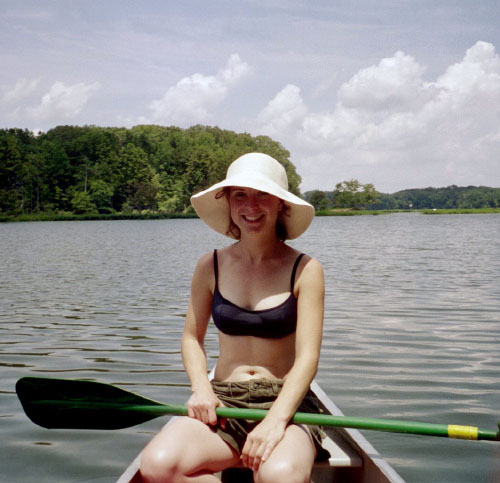 While I was home for two weeks at the beginning of August, Kate and I went to her family reunion in Kentucky. It was held at the northern tip of the Land Between the Lakes. Here's Kate enjoying some canoeing.
---
I was also enjoying the canoe.
---

There were a lot of cool sailboats there.
---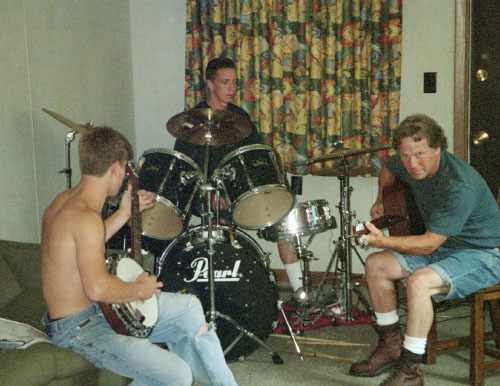 During their free time at the reunion, Kate's dad and brothers played their instruments. They are excellent musicians. It was not uncommon for a bunch of the relatives to come over in the evening and they'd all just jam and hang out. I think we had a total of something like 2 banjos, 3 or 4 acoustic guitars, an electric guitar, and a full drum set.
---
Then I was best man at Chris and Kim's wedding. You can see those pictures here.
---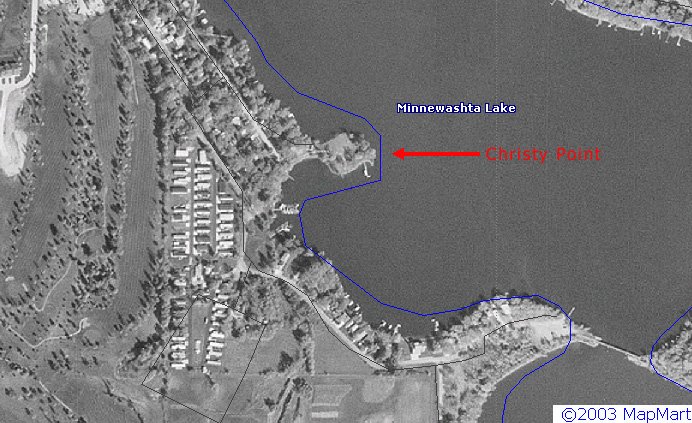 For my last week of vacation, Kate took me up to Okoboji Lake in northwest Iowa. Her great-great-grandfather built a cabin on one of the lakes up there and it has been passed down through the generations. Kate's family shares the cabin and the small plot with a couple other families as a vacation spot throughout the summer. Christy Point is by far the most ideal spot on the lake, as it sticks out into the water. No land-based picture can capture this arrangement, so I found this aerial picture on the web.
---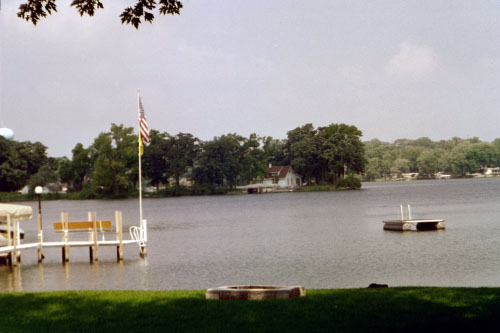 Here's a picture of Christy Point from across the small bay.
---
Here's a picture of the lawn around the cabin.
---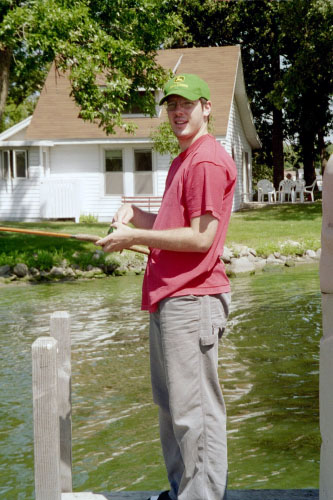 For 4 nights and 4 days, we just relaxed. I fished and ate and slept and skiied (got up on the 6th try ever) and ate and fished and walked and fished and fished and fished.
---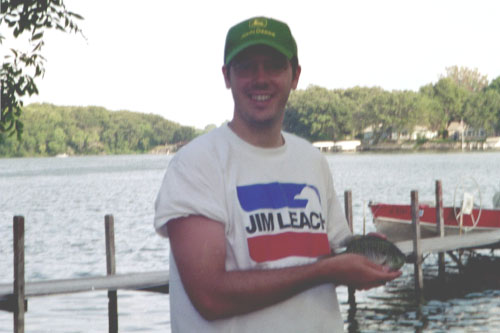 So the natural question is: With all that fishing, did you catch anything? Yes and no. On only my third cast, something big struck my lure. In the excitement of the moment, I failed to call for a net. I was completely unprepared for such a catch. As I tried to bring the 14" bass out of the water, he snapped my line and got away. Filled with a belief that the waters were teaming with good fish, I went and got some new lures and tried again the next day. When a fish struck this time, I was ready with the net. Again, it was a nice sized fish; a large blue gill I think. But as I tried to manuever the net under the fish, he slipped off the hook. So I fished some more. Finally I was able to do it all the right way and landed this 7" blue gill. It was the first and only fish I caught at Christy Point, hopefully not my last. My time there was no doubt the most relaxing four days I've ever had.
---