Welcome to my Camera Section. If there are any pictures of you or yours that you do not wish to have on this page, please email me.
---
Memorial Day Weekend 2004
---
After arriving late on Friday and going out to eat at Highway Pizza, we awoke on Saturday to begin enjoying the weekend. (i.e. I have no pictures from Friday night, so I'll just start on Saturday.)
---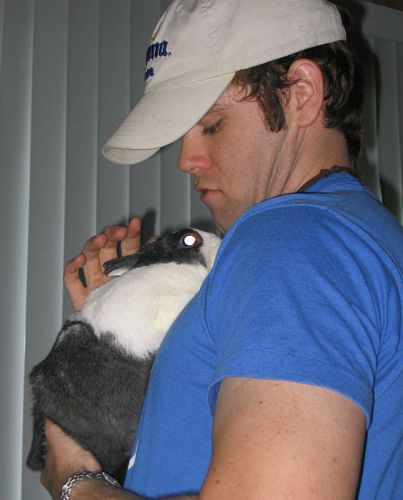 Here's Bret with a friend's pet bunny, Butters.
---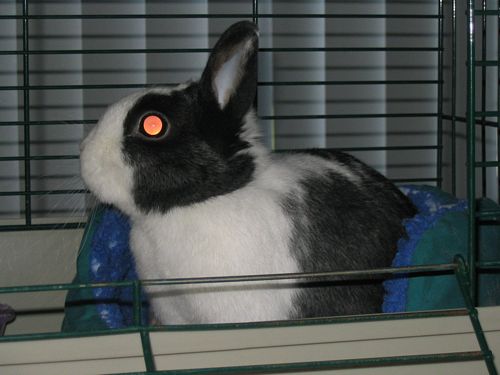 Butters.
---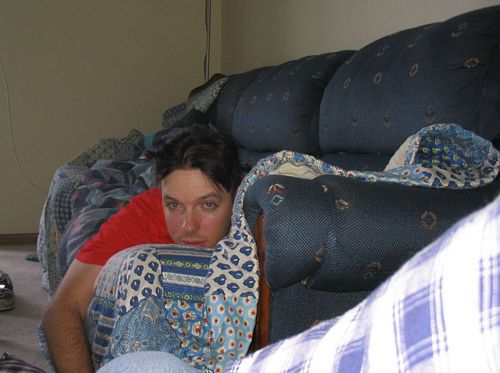 While Kate and Bret played with Butters, I was trying to make up for a restless night's sleep.
---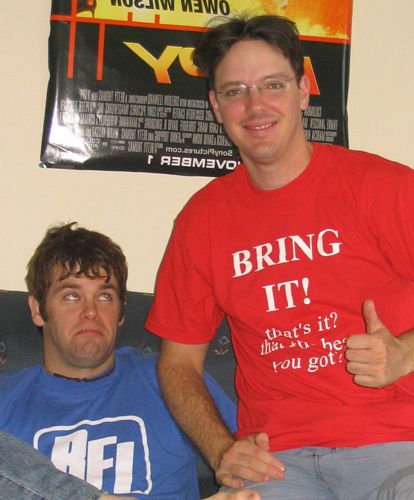 Alright, Bret. Bring on the fun!
---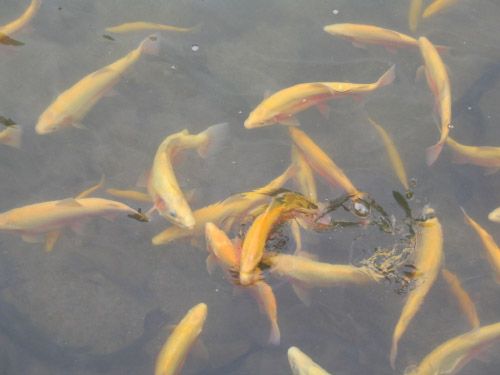 On Saturday we drove to the nearby town of Bellefonte to see some of its small shops. Then we went down to a park along a stream and fed the fish. There were lots and lots of these overgrown goldfish.
---
Bret and Kate in a pseudo-action shot.
---
I try my best to get it to a specific fish.
---
And there were ducks there, too.
---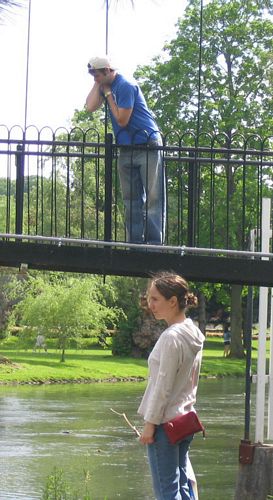 The park was small, but neat.
---
Here I talk to the woodland faerie that I found living in a tree.
---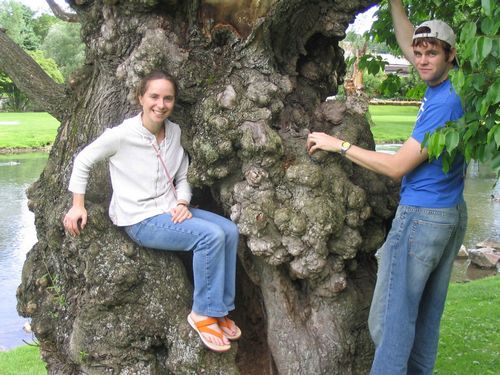 Bret and Kate hang out on the tree.
---
Bret
---
That night we went to "Shrek 2" with a French girl that Bret knows.
---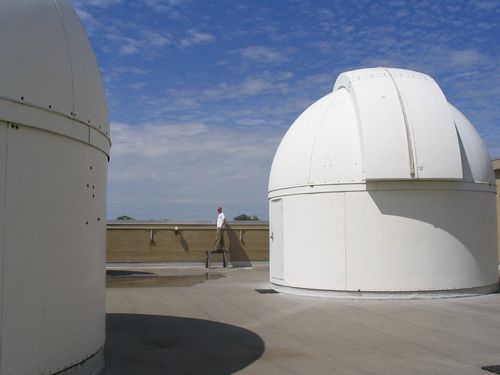 The next morning we took a tour of the PSU campus. We saw an art museum, ate some great icre cream, and ended up at the astronomy building. Here I am on the roof, overlooking State College.
---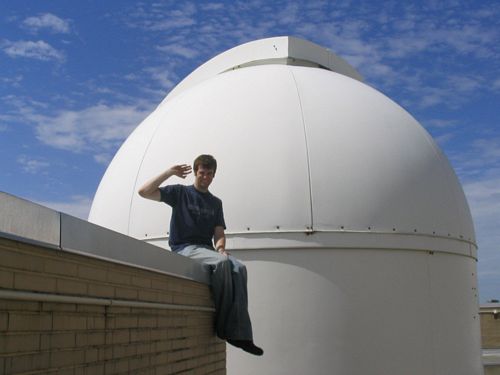 Bret on the roof of the Astro building.
---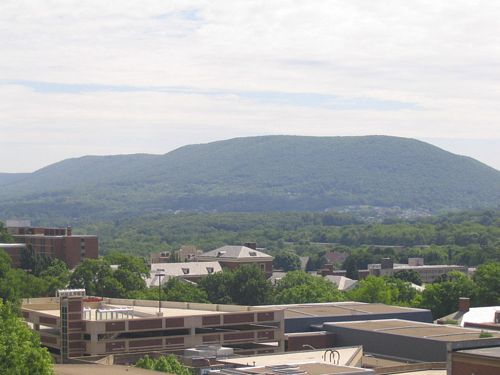 Mount Nittany, as seen from the top of the Astro building.
---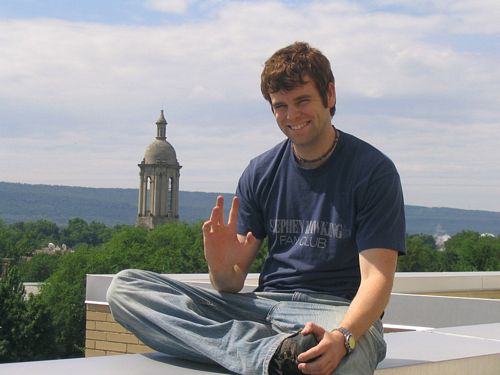 And one last shot of Bret before he fell off the ledge.
---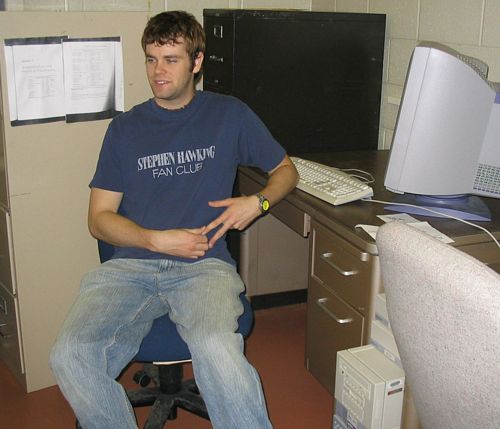 Bret at his desk.
---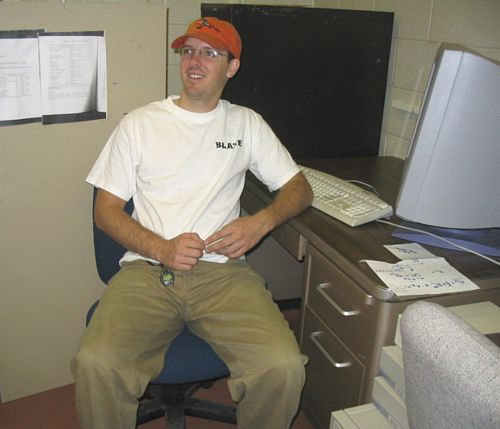 Me at Bret's Desk
---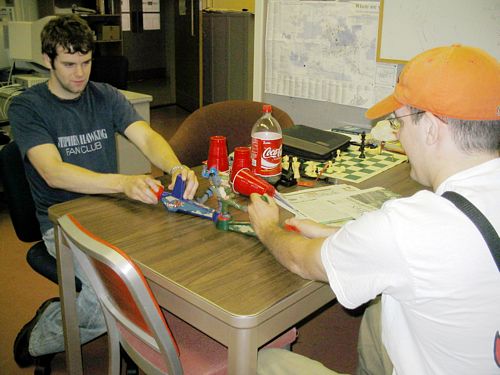 Bret and I battle it out with these things that are a bizarre cross between GI Joe figurines and Rock 'Em Sock 'Em robots.
---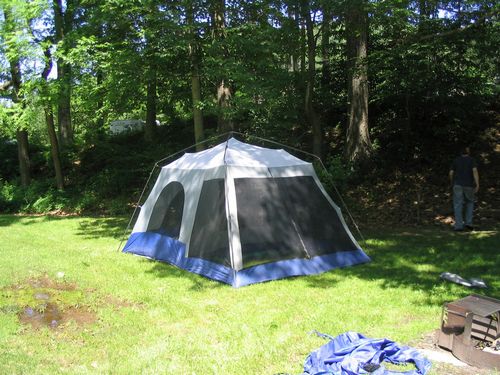 Then we drove up to Little Pine State Park in northern Pennsylvania. Although our tent looks secluded here, it's really in an electric site and we've got RVs all around us. It made for an interesting camping experience.
---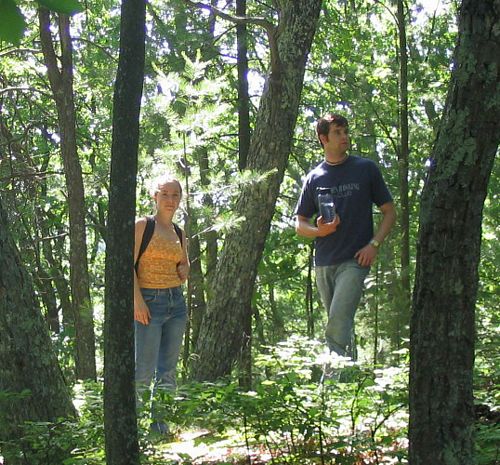 To work up an appetite, we took a long hike on Spike Bull Trail. The map said it was only 2 miles, but it was more like 3 or 4.
---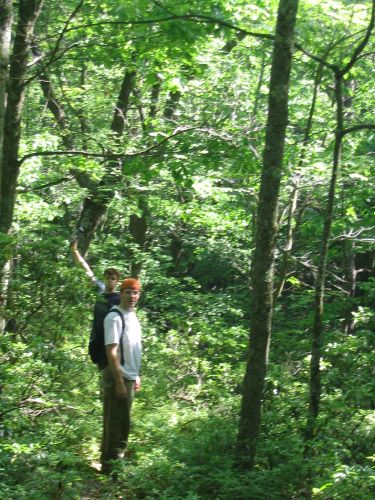 Off we go into the woods without a tripod. I hope we don't run into any sharks!
---
"What?! You drew that map! I'll tell you where we are: we are lost. We are in the place of lost. Oh, spit, man. Spit."
---
Kate out on the only ledge we found.
---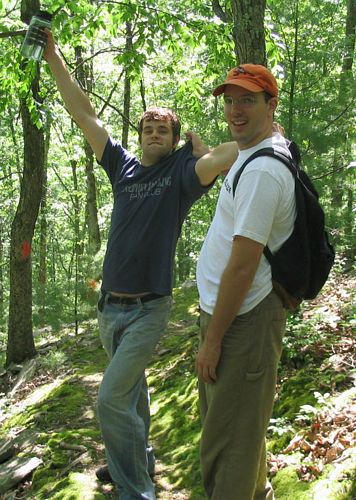 It creeps me out how much I look like my older brother Brett in this picture.
---
Here are some of the sights we saw along our hike (in no particular order).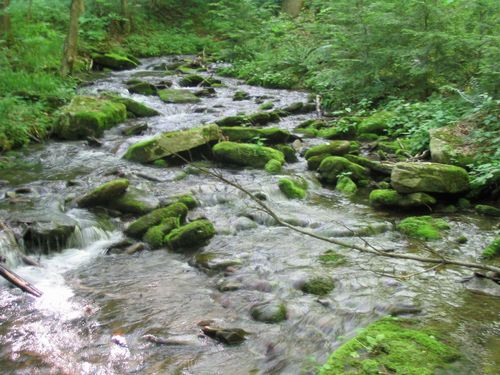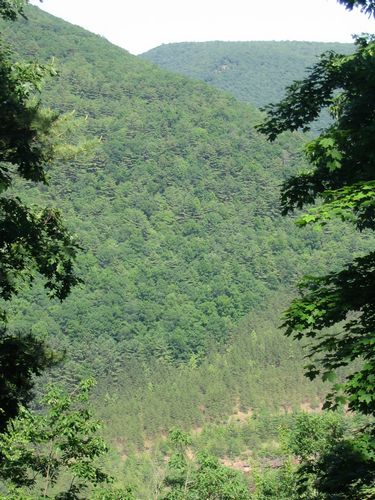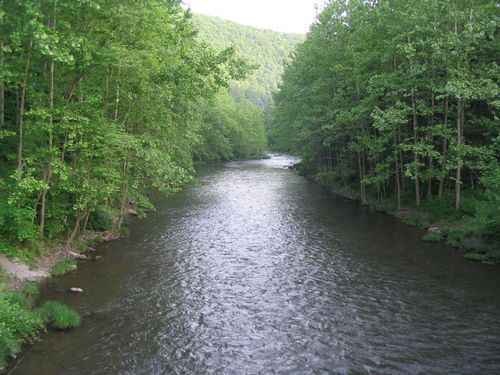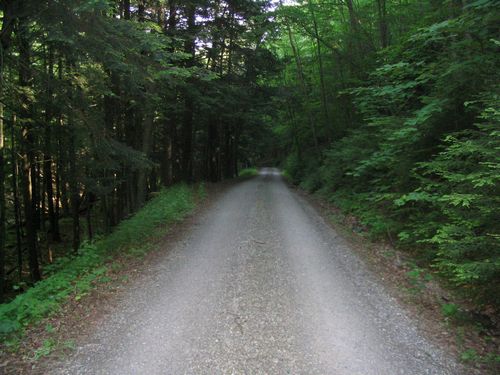 ---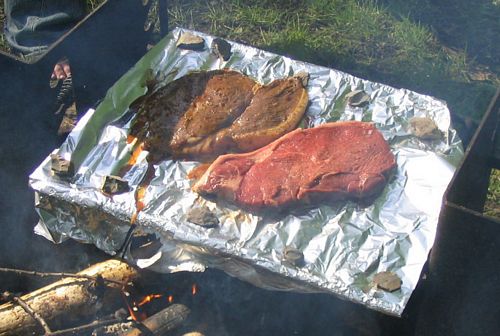 When we got back, we were hungry. So we grilled up the $10 steaks we brought. (We got them on sale, buy one get one free. And Bret got some free marinade with his, too.)
---
The wood we were using was nasty wet wood, so it was hard to keep the fire going. We essentially cooked on the fire of twigs and newspaper.
---
It was a really good meal.
---
Afterwards, we needed to go to town to get refreshed. That was when I decided to note just how damn expensive gas was that weekend. I know in the future I'll look back and think $2 is cheap. But it sure feels expensive now.
---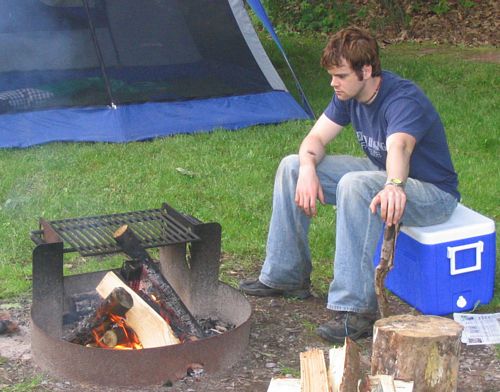 We also got some dry wood and started the fire again. This time it actually worked.
---
The obligatory fire picture.
---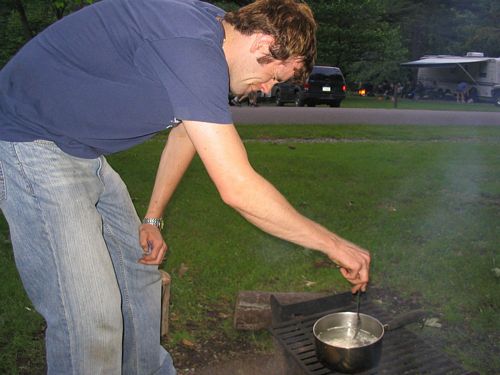 Later Bret got hungry again and decided to make some Ramen that he'd brought along. Here we see the risks involved in cooking over a campfire: smoke in the eyes.
---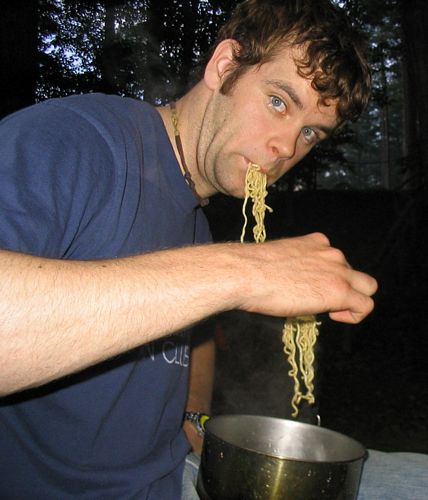 Mmmmm.. Ramen....
---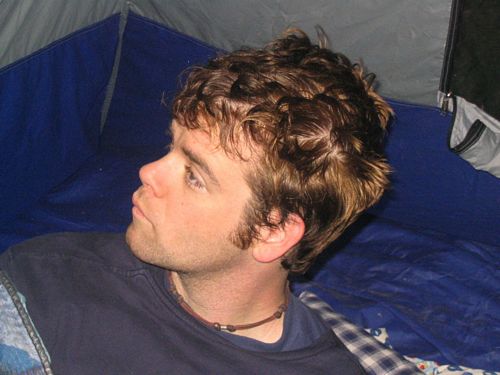 The next morning we got up and everyone was all smiles...
---
Well, I was at least.
---
After packing up we drove back to State College to drop Bret off. Then Kate and I headed back to College Park. Later we would realize we'd left our Nalgene bottles at Bret's place. Thankfully, he was kind enough to make a special trip all the way down to College Park to return them.
---